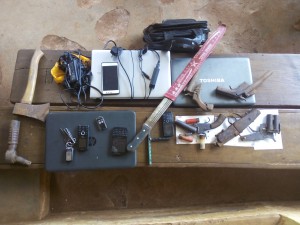 Report of Robbery Incidence and Illegal Possession of Fire Arms in UNN Nsukka Campus
On the 4th of May, 2016 at about 22.00hrs GMT, the security operatives on routine night patrol along sewage lane apprehended one Collins Emeka Ani, a student of Philosophy Department with Registration No. 2013/86770 and resident at Ugwueze Lodge, Hill top Nsukka. There he laid siege to rob innocent students of their valuables.
When he was caught, he stated that his accomplice in the person of one Ebuka Chuka Chukwuara escaped to the nearby bush. The suspect is still at large and is the lodge mate of the suspect and a student of Biogical Science. The suspect when interrogated by the Chief Security Officer confessed that they had earlier snatched a phone from a female student at gun point, along ICT road. After the interrogation, the C.S.O mobilized security men to Ebuka's residence (Ugwueze lane, Hill top) where the following items were recovered; two laptops (Toshiba & HP), two phones, wallet, laptop charger three photographs, handbags and  one faculty ID card belonging to Mr. Ebuka Chuka Chukwura of Biological Sciences with Reg. NO.2012/1829510.
          Early in the morning of 05/5/2012 at about 06:15 hrs, the Chief Security Officer mobilized security personnel and went after the suspect that is still at large. They are yet to apprehend the remaining suspect but men of the security department was able to recover a locally made shut gun used for the robbery near a bush at the robbery scene.
End of report. C.S.O
Security Advice:
 In as much as the security department is committed to securing lives and property on campus, all students and staff are advised to avoid dark and lonely areas on campus especially at night time. If you have need to walk in lonely places make sure you go with company!!!